Tweets Analysis - Keyword: Bayern
Total number of tweets analysed
9,609
Earliest tweet was on
2023-04-05
Latest tweet was on
2023-04-05
Average age of authors' accounts
6 years
---
Summarization
Bayern director Hasan Salihamidžić confirms they are considering options for a new #9 striker, while also experiencing a loss to Freiburg and a three-year drought in the DFB Pokal. They earned €109.6m from the Champions League last season. Julian Nagelsmann's availability is complicated by his severance package from Bayern. Liverpool and Bayern are interested in Frankfurt midfielder Daichi Kamada. Expert analysis suggests Thomas Tuchel is the worst Bayern trainer in 28 years with a 1.5 PPS. Lewandowski was surprised by Nagelsmann's firing, and Sadio Mane will be a guest at Simba Day for Simba Sport Club.
Topic Modeling
Bayern's search for a new striker and transfer market activity
Bayern's recent defeat and performance in matches
Earnings and rankings of teams in the Champions League
Politics in Bayern, including vaccination and media coverage
Interest in and analysis of manager Julian Nagelsmann
Emotional Analysis
The tweets discuss various topics related to Bayern Munich, ranging from their performance in the Champions League to their transfer market plans. The emotions expressed include disappointment, frustration, surprise, and interest. There is disappointment over Bayern's loss in the DFB Pokal and their three-year trophy drought, frustration with Thomas Tuchel's performance as a coach, and surprise over Julian Nagelsmann's departure. There is also interest in potential transfer targets and earnings from the Champions League.
Trend Analysis
Bayern Munich's potential transfer activity and performance
Real Madrid's financial success in the Champions League
Criticism of Thomas Tuchel's coaching at Bayern Munich
Interest in Daichi Kamada as a free transfer
Bayern Munich's recent loss to Freiburg and elimination from DFB Pokal
---
Types of Tweets
Number of Retweets
1,569
Percentage of total tweets
16%
Number of Original tweets
2,365
Percentage of total tweets
24%
Number of tweets that contain Mentions
6,936
Percentage of total tweets
72%
Number of tweets that were Replies
5,263
Percentage of total tweets
54%
Number of tweets that were Quotes
609
Percentage of total tweets
6%
Number of tweets that contain Hashtags
1,582
Percentage of total tweets
16%
---
Top 5 devices used to tweet
| Source | Count |
| --- | --- |
| Twitter for Android | 3767 |
| Twitter for iPhone | 3246 |
| Twitter Web App | 1677 |
| Twitter for iPad | 150 |
| TweetDeck | 78 |
What devices were used to tweet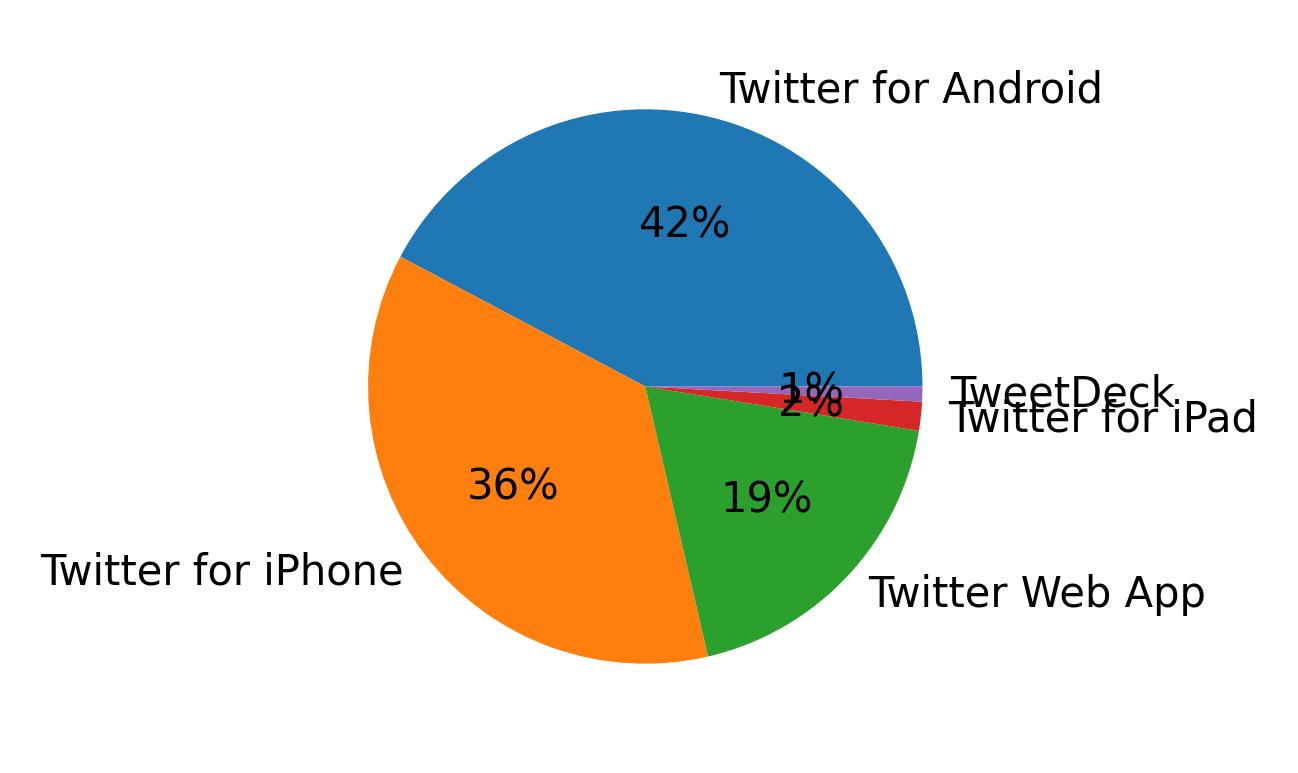 ---
Top 10 accounts with highest followers count
| Username | Name | Bio | Followers count |
| --- | --- | --- | --- |
| detikcom | detikcom | Official Twitter of https://t.co/jtXZ3Wcfhf. redaksi@https://t.co/jtXZ3Wuovn | promosi@https://t.co/jtXZ3Wuovn | Android: https://t.co/l5tQVBgqbD iPhone: https://t.co/NleJXySGkT | 20,139,287 |
| FabrizioRomano | Fabrizio Romano | Here we go! © | 14,377,031 |
| la_patilla | La Patilla | Noticias, información e Investigación | 7,537,794 |
| marca | MARCA | ⚽️🏀🎾🏸⛳️🥊🤾‍♀️🏊‍♀️ Bienvenidos a la casa del deporte. Somos MARCA, el diario de todas las aficiones. ¿Nos acompañas? | 6,465,472 |
| ElNacionalWeb | El Nacional | Te informamos sobre las noticias más recientes de Venezuela y el mundo. Evita la censura y descarga el VPN 📲https://t.co/l9iUmozIqw | 5,735,560 |
| 433 | 433 | The Home of Football 🏠⚽️ | 4,237,749 |
| tagesschau | tagesschau | Schlagzeilen von https://t.co/sUyyRPnseF - Rückfragen an https://t.co/qvffY6fJge | 4,017,439 |
| detiksport | detiksport | Akun resmi situs berita olahraga Contact: redaksi@detiksport.com | info@detiksport.com | promosi@detik.com | 3,891,906 |
| footmercato | Foot Mercato | ⚽️ Média leader sur l'actualité du #football en France 🇫🇷 L'univers Foot Mercato 🔽 | 3,357,921 |
| diarioas | Diario AS | El twitter de https://t.co/eL5Le5sRNz. Sigue en directo las principales novedades del mundo del deporte. También en: https://t.co/yhtbhHCEnH | 3,256,067 |
Top 10 accounts with highest friends count
| Username | Name | Bio | Followers count |
| --- | --- | --- | --- |
| empireofthekop | Empire of the Kop | Official Twitter account of E.O.T.K. For Liverpool fans, by Liverpool fans. Former Winner of Best Social Account @ #TheFBAs 🌟 | 907,332 |
| ElNacionalWeb | El Nacional | Te informamos sobre las noticias más recientes de Venezuela y el mundo. Evita la censura y descarga el VPN 📲https://t.co/l9iUmozIqw | 337,935 |
| swissbusiness | swissbusiness | The Swiss Business Club is connecting business people | 95,314 |
| Certifiedopeboi | Ugbedeojo #MUFC | Social Media Marketer || Football & Music Enthusiast ||Banter #FPL #MUFC #AbujaTwitterCommunity | 36,449 |
| ntvde | ntv Nachrichten | #FürAlledieFragenhaben • Mehr von #ntv: @ntv_EIL • @ntvde_politik • @teleboerse • @ntvde_Sport • @ntvde_Auto • @ntvpodcast • https://t.co/A9AJrldhaq | 33,203 |
| AnythingLFC_ | Anything Liverpool | Tweet About All & Anything Liverpool - News 📰 | Rumours🔎| Updates 🖊 | Pictures 📸 | Videos 🎬| 🔴 | Email - anythingliverpool@gmail.com | #LFC #LIVERPOOL | 27,313 |
| littlewisehen | Littlewisehen | Genießer, Doctor humoris causa, Alpenländischer Londoner, Donaldist, Paragrafenbändiger, Weltenbummler, Börsianer, Gourmet, Littérateur. | 27,103 |
| Wulf2015GER | Ⓜ️🏆🥇#FCB⚽🚨⛟Wulf-Rüdiger | #FCB❤🤍@bundesbank @HypoVereinsbank @deutschetelekom @FCBayern @adidas @AudiOfficial @PaulanerPresse @vonderleyen @Intel_DE @BoschGlobal @Siemens | 26,317 |
| janejane24 | janejane - @janejane24 #NoWAR #Peace #FBR | #BRD #GreenIsAbadChoice #GodIsLove #WeAreTheChangeWeSeek #BlueEuropeJoinsBlueUSA 🇺🇲🌎 #Democracy #Resist #NoFacism #FBR🌊 #gendergaga🤡🤡 #bubbleFree | 26,265 |
| Y6s8D8vmnCo394k | ☀️まっちゃん☀️ For you🤝 | 🏠大阪府在住/🪙暗号通貨🪙/NFT/メタバース【趣味】📚読書中毒✍️文字中毒🎸🎤🎷音楽🎣海釣り🏌️‍♂️ゴルフ ⛩ 神社仏閣 巡り🏉社会人ラガーマン✈️旅行🍽グルメ/ 🎮ゲーマー【自慢】👺💯ずっと本当に運がイイ人生👍/ 👨‍💻仕事は会社経営をしています。 | 25,751 |
Most active users
| Username | Bio | Number of tweets |
| --- | --- | --- |
| Oshio_Bayern | Bayern München @FCBayern | Die Mannschaft @dfb_Team | @TokyoGiants ☞ @FCB_Zeitung_JP #お前が優勝マタイス・デ・リフト #おしおくっきんぐ #セルジュ・ニャブリを諦めない | 60 |
| bayern_munchen6 | ولدت مشجعا للبافاري العظيم و منتخب المانيا (بافاري❤️🤍+الماني🇩🇪) (مشجع للريال بنسبة ٤٠ و ٦٠ في مئة بافاري) #mia_san_mia #hala_madrid #bayern | 48 |
| danny_bayern | Bayern Munich, América, 49ers, Dodgers, and Bucks fan | Ronaldo, Musiala, Muller, and Kimmich Fan | Backup: @danielbavaria_ | 40 |
| Germancop | Love Internet and computers, interested in all the things that happen all around the world. Find more info and interesting stuff at my homepage | 37 |
| nico_bayern | 20 | FC Bayern | Kane Enthusiast | 37 |
| TOXER42948900 | siuuuu | 34 |
| RadioIsMyFriend | ♑ |Humanity First |Microbiologist🧫 |Prospective Grad Student |Ardent 📻 Radio Listener |Health Safety & Environment Advocate |Identical Twin |Single |Cyclist🚲 | 21 |
| BR24 | Hier ist Bayern. | 19 |
| bayern_sincero | Bayern Maior e melhor time do mundo quem discorda é Clubista| NESSA PAGINA SÓ FALAMOS FATOS NÃO GOSTOU ?? VAZA| MIA SAN MIA ❤🤍🇩🇪 | 19 |
| Bayern_MN | Bayern München Thomas Müller #MiaSanMia 家臣@harawo_cule | 17 |
---
Tweets per day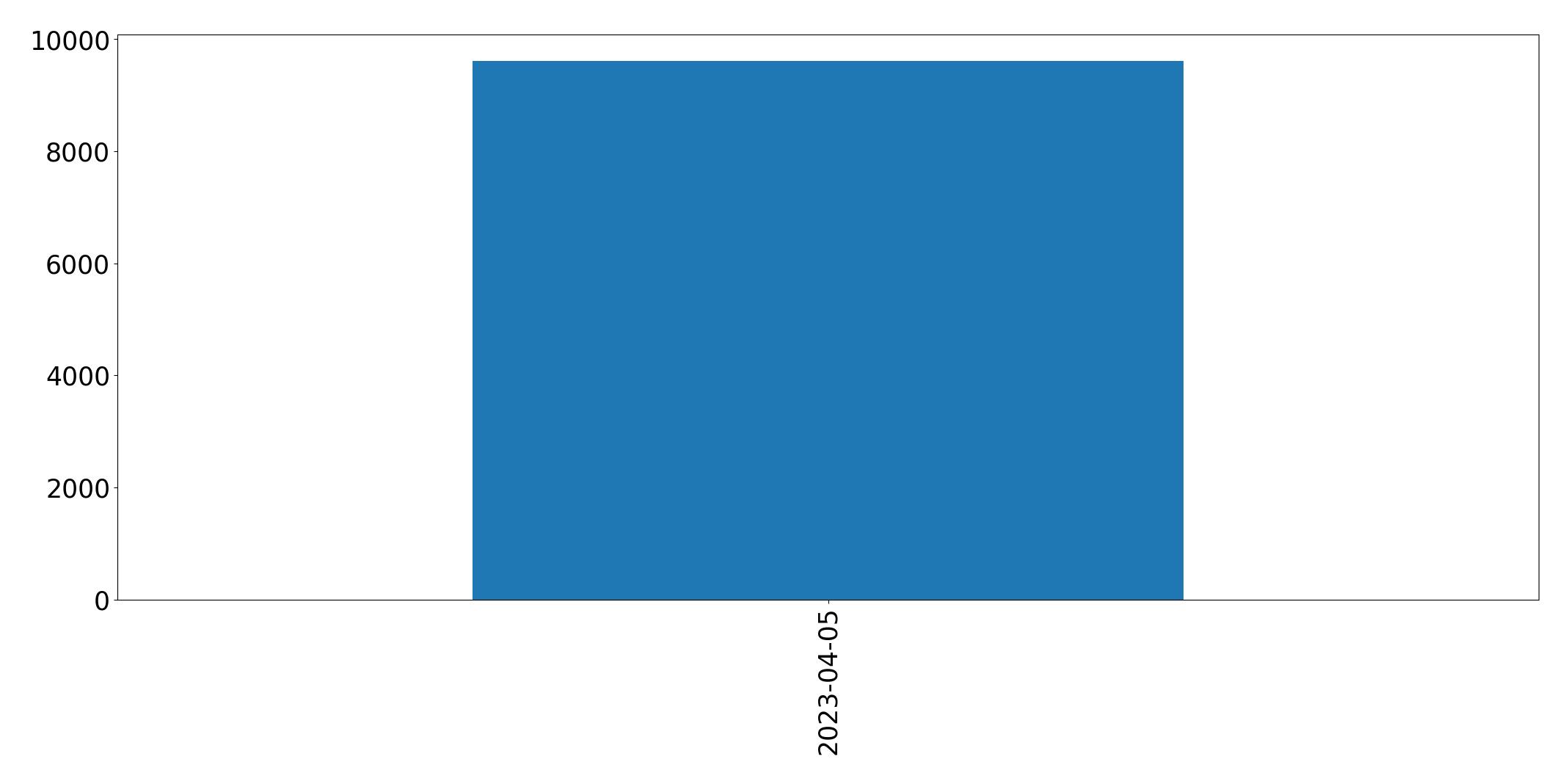 ---
Top 10 tweets with highest Retweet count
| ID | Text | Retweet count |
| --- | --- | --- |
| 1643502115896147971 | Vor der Landtagswahl hat Bayern eine Hotline für Impfopfer eingerichtet. Sie ist völlig überlastet. Hoffentlich wissen die Wähler noch, dass @Markus_Soeder sogar ihre Kinder zwangsimpfen wollte: https://t.co/Rc5sbNWvK3 https://t.co/j4r4FeKEdY | 1013 |
| 1643516822535417856 | Bayern director Hasan Salihamidžić on whether a new striker will be signed this summer: "Of course we'll sit down and see what we'll do on the transfer market...", he told SkyDE about possible deal for new #9 🔴 Bayern, monitoring many options in order to decide with Tuchel. https://t.co/KXXqQ84L1R | 757 |
| 1643556721011335171 | @@envynoman96's account is temporarily unavailable because it violates the Twitter Media Policy. Learn more. | 757 |
| 1643554072752971778 | Freiburg ended Bayern Munich's 2️⃣7️⃣ game unbeaten streak in official matches at the Allianz Arena last night 😳 https://t.co/capH3tbuVE | 304 |
| 1643497432112590848 | Stellt euch mal vor ein Mitglied des Grünen Landesvorstandes in Bayern dürfte bei @BR24 regelmäßig meinungsstarke Artikel als Redakteur verfassen, in denen der Leser mit keinem Wort erfährt, dass er Grüner Funktionsträger ist. BILD macht exakt das mit FDP-Mann @PhilHackemann. https://t.co/JYgUmwhGVS | 300 |
| 1643586682610917376 | Official: Real Madrid earned €133,7m for winning the Champions League last season. 💰 1) Real Madrid: €133,7m 2) Liverpool: €119,9m 3) Bayern: €109,6m https://t.co/4AtILhX7Sq | 265 |
| 1643512544324382722 | I am the young football coach dubbed as "Baby Mourinho" who led RB Leipzig to their first-ever Champions League semi-final. I shattered Bayern Munich's record for the youngest Bundesliga coach to win 100 games. Who am I? #1957bet https://t.co/5xCVU0KUhR | 100 |
| 1643611720575864833 | 🚨 Julian Nagelsmann availability is complicated by the severance package agreed with Bayern after departing last month. Chelsea have made contact with Nagelsmann whose agency Sports360 want to learn more about Chelsea's long-term plans and how much authority he would have at… https://t.co/RlKo6lF9FS https://t.co/xGxcEEiLtk | 99 |
| 1643494484804501505 | Bayern Munich's elimination from the DFB Pokal last night means they'll go three years without lifting the trophy for the first time this century 😬🏆 https://t.co/k3QFI0qLb0 | 70 |
| 1643512508328583168 | Do you think Thomas Tuchel is ready to coach Bayern Munich? https://t.co/dXVSAFKoro | 66 |
Top 10 tweets with highest Like count
| ID | Text | Like count |
| --- | --- | --- |
| 1643516822535417856 | Bayern director Hasan Salihamidžić on whether a new striker will be signed this summer: "Of course we'll sit down and see what we'll do on the transfer market...", he told SkyDE about possible deal for new #9 🔴 Bayern, monitoring many options in order to decide with Tuchel. https://t.co/KXXqQ84L1R | 12286 |
| 1643554072752971778 | Freiburg ended Bayern Munich's 2️⃣7️⃣ game unbeaten streak in official matches at the Allianz Arena last night 😳 https://t.co/capH3tbuVE | 7857 |
| 1643586682610917376 | Official: Real Madrid earned €133,7m for winning the Champions League last season. 💰 1) Real Madrid: €133,7m 2) Liverpool: €119,9m 3) Bayern: €109,6m https://t.co/4AtILhX7Sq | 5154 |
| 1643502115896147971 | Vor der Landtagswahl hat Bayern eine Hotline für Impfopfer eingerichtet. Sie ist völlig überlastet. Hoffentlich wissen die Wähler noch, dass @Markus_Soeder sogar ihre Kinder zwangsimpfen wollte: https://t.co/Rc5sbNWvK3 https://t.co/j4r4FeKEdY | 3079 |
| 1643497432112590848 | Stellt euch mal vor ein Mitglied des Grünen Landesvorstandes in Bayern dürfte bei @BR24 regelmäßig meinungsstarke Artikel als Redakteur verfassen, in denen der Leser mit keinem Wort erfährt, dass er Grüner Funktionsträger ist. BILD macht exakt das mit FDP-Mann @PhilHackemann. https://t.co/JYgUmwhGVS | 1674 |
| 1643611720575864833 | 🚨 Julian Nagelsmann availability is complicated by the severance package agreed with Bayern after departing last month. Chelsea have made contact with Nagelsmann whose agency Sports360 want to learn more about Chelsea's long-term plans and how much authority he would have at… https://t.co/RlKo6lF9FS https://t.co/xGxcEEiLtk | 1670 |
| 1643516476505174017 | So Bayern hired Tuchel because the treble was in danger and 1 week later they can't win the treble anymore? I mean it's not a shame to lose to Freiburg but the Pokal is gone now. Against City it's a must win, right? | 1375 |
| 1643587302185213955 | (🟡) NEW: Liverpool and Bayern Munich are most interested in Daichi Kamada who is available on a free transfer this summer. [@MatteMoretto] https://t.co/xgpHgXWxpY | 1163 |
| 1643494484804501505 | Bayern Munich's elimination from the DFB Pokal last night means they'll go three years without lifting the trophy for the first time this century 😬🏆 https://t.co/k3QFI0qLb0 | 1105 |
| 1643505581112586243 | ES WIRD EISIG IN MÜNCHEN 🥶 Mit einem Punkteschnitt von 1,5 PPS ist Thomas Tuchel der schlechteste Bayern Trainer seit 28 Jahren. Experten fragen sich wie lang diese Abwärtsspirale noch gehen kann und ob sie das Triple gefährdet. Doch jetzt hat er ganz andere Probleme... https://t.co/jPzu3M0VIZ | 1027 |
Top 3 Languages Used In Tweets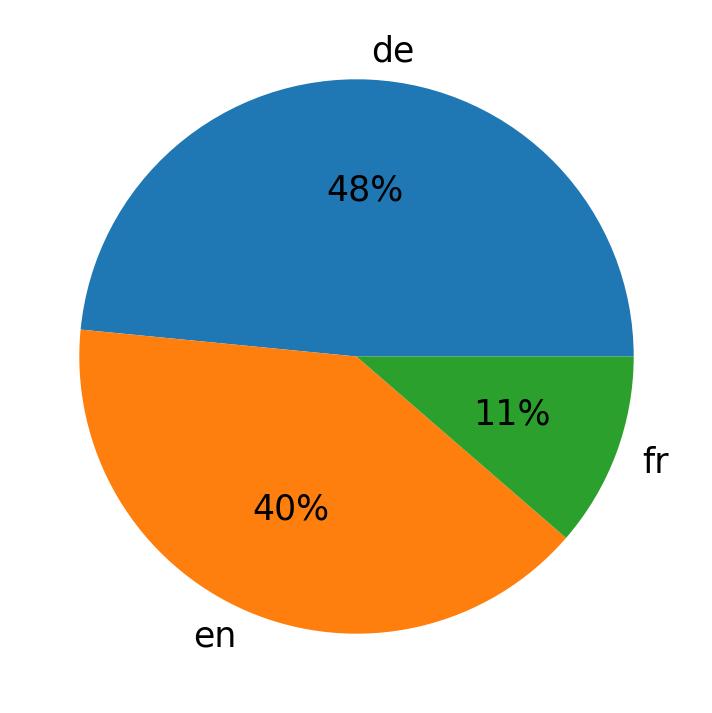 ---
Top 10 Hashtags used
| Hashtag | Count |
| --- | --- |
| #bayern | 283 |
| #fcbscf | 198 |
| #dfbpokal | 172 |
| #fcbayern | 140 |
| #tuchel | 66 |
| #miasanmia | 53 |
| #bayernmunich | 49 |
| #doge | 49 |
| #polizei | 40 |
| #phantomvfold | 39 |
Top 10 Hashtags Used In Tweets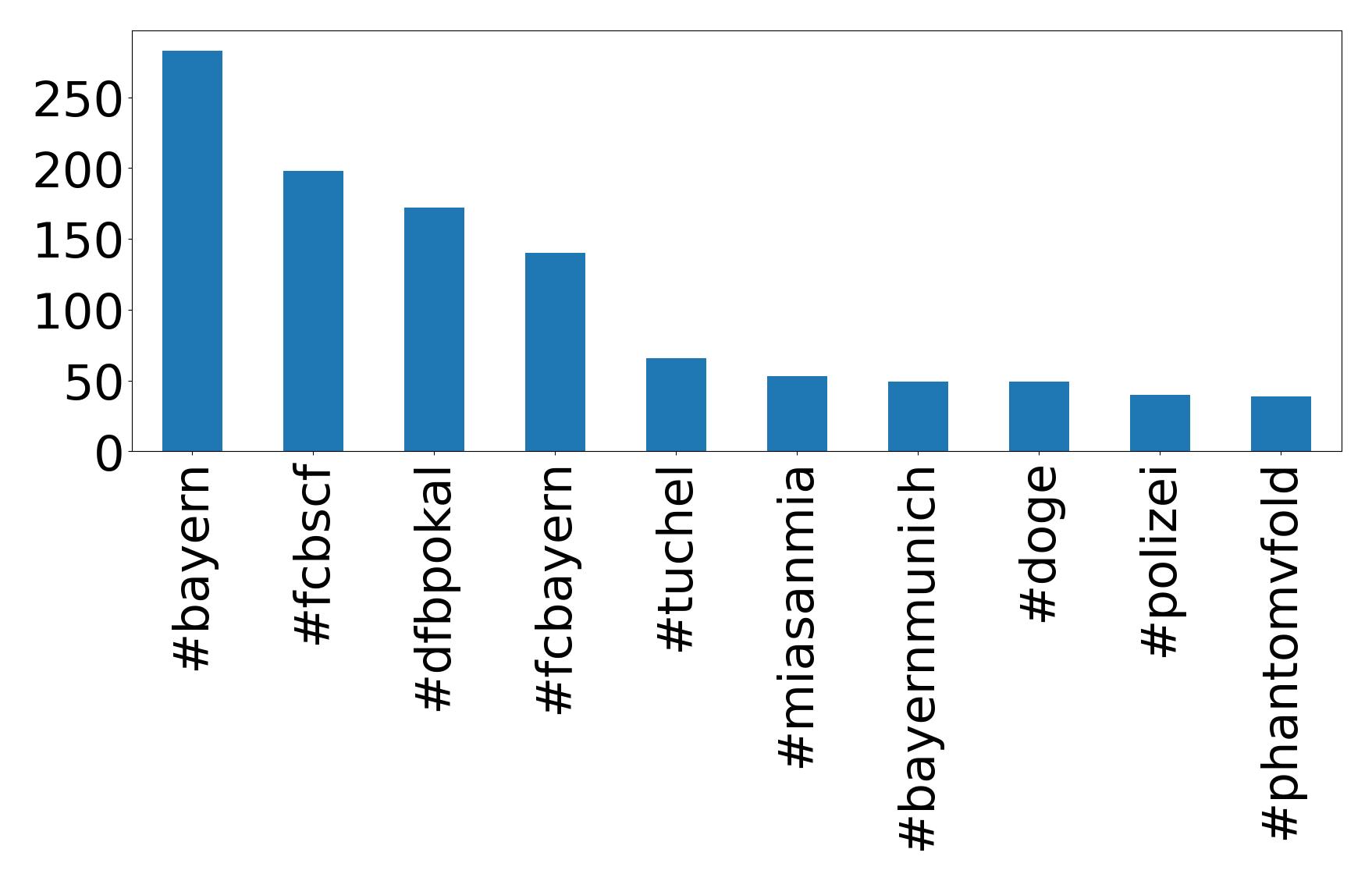 Top 10 mentions
| Mention | Count |
| --- | --- |
| @fabrizioromano | 160 |
| @fcbayern | 121 |
| @imiasanmia | 105 |
| @br24 | 95 |
| @scfreiburg | 95 |
| @collinaserben | 87 |
| @skysportde | 72 |
| @cfcdaily | 62 |
| @actufoot_ | 52 |
| @mancity | 48 |
Top 10 mentions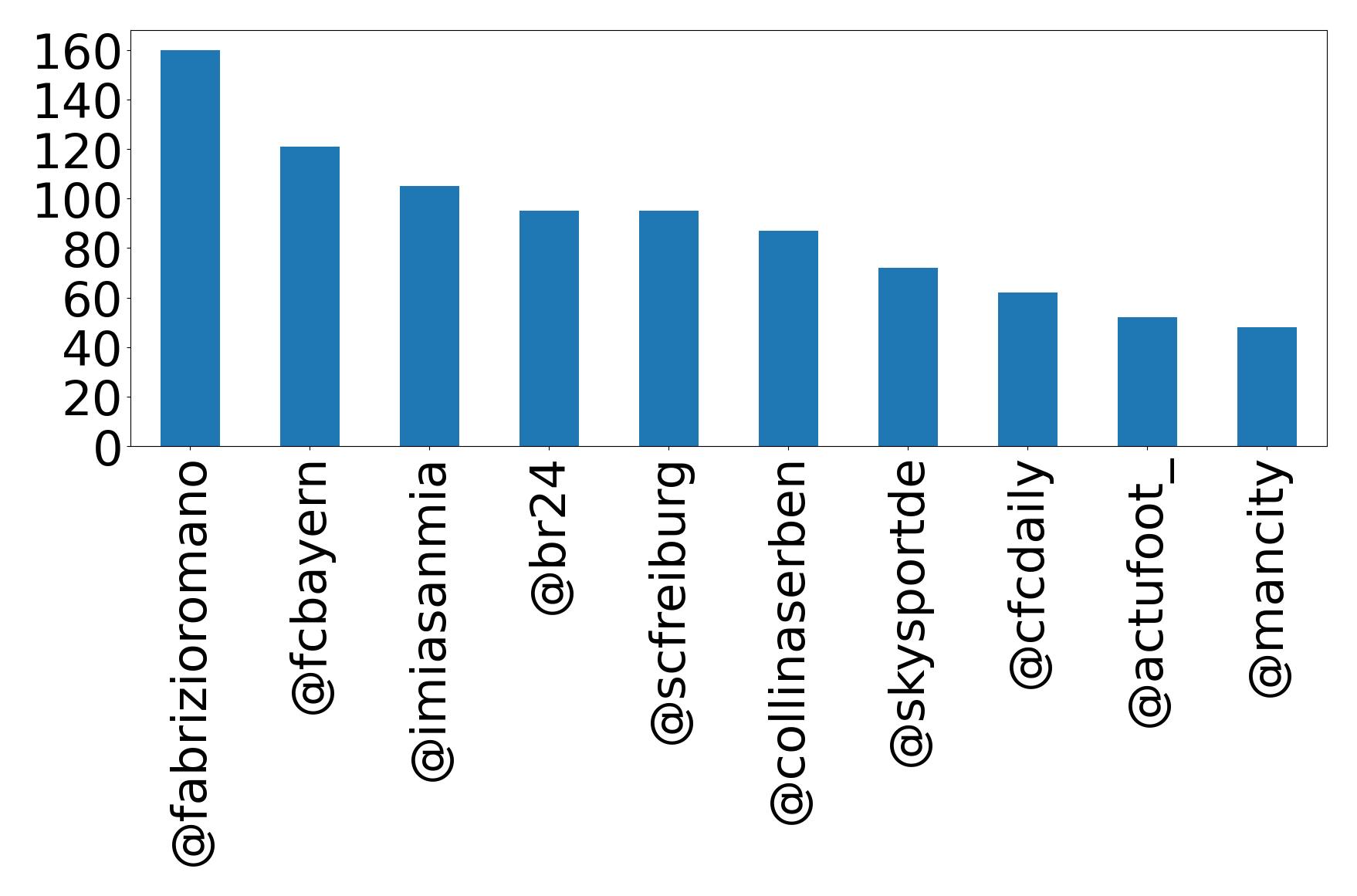 Wordcloud of Tweets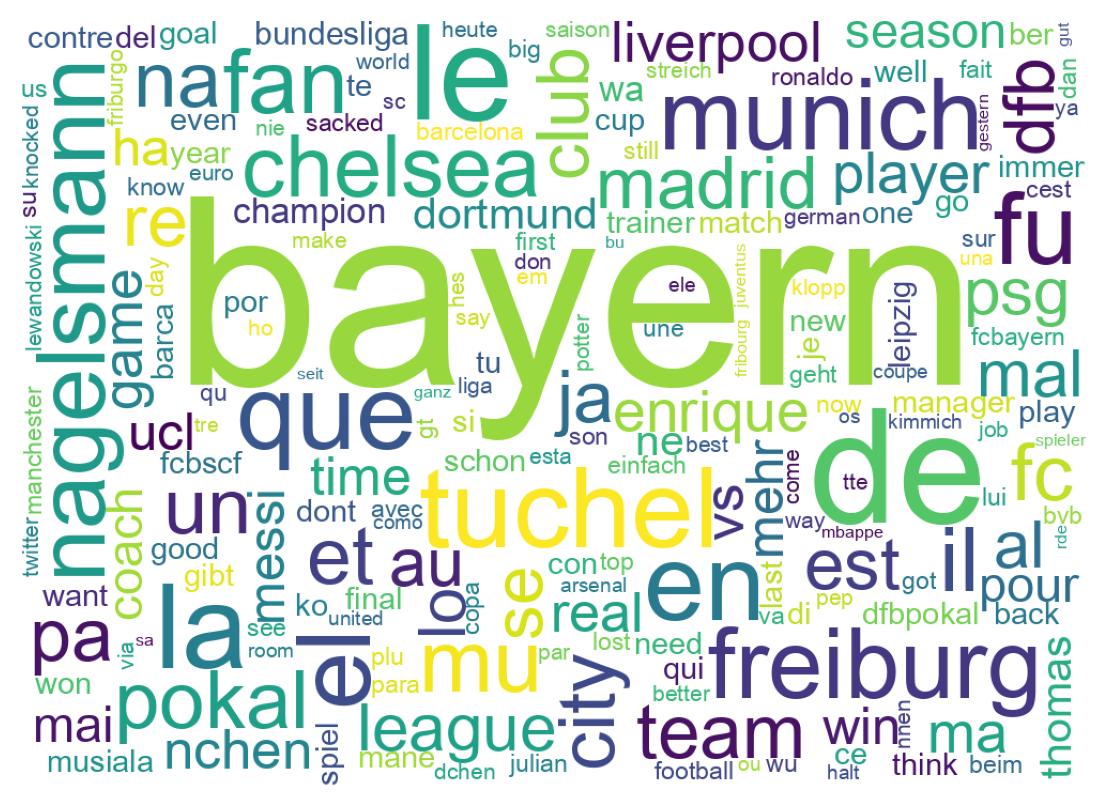 ---
Emojis
Average number of emojis used per tweet
50
Emojis used in tweets
| Emoji | Count | Emoji Text |
| --- | --- | --- |
| 😂 | 424 | face_with_tears_of_joy |
| 😭 | 256 | loudly_crying_face |
| 🤣 | 226 | rolling_on_the_floor_laughing |
| ♥ | 172 | heart_suit |
| ⚽ | 104 | soccer_ball |
| 🚨 | 102 | police_car_light |
| 🇩🇪 | 101 | Germany |
| 🔥 | 78 | fire |
| 🔴 | 70 | red_circle |
| 🤡 | 70 | clown_face |
Emojis groups
| Emoji Group | Count |
| --- | --- |
| Smileys & Emotion | 2211 |
| Symbols | 758 |
| People & Body | 508 |
| Activities | 414 |
| Flags | 314 |
| Travel & Places | 307 |
| Objects | 241 |
| Animals & Nature | 33 |
| Food & Drink | 31 |